If you're asking "how often should I replace my roof", you've got a fairly complex problem on your hands. But not to worry! JCM Roofers are here to help you. Read on for the answer to your question.
There are a whole host of things to consider when re-roofing or roof replacement is being considered. Some missing tiles here and there won't result in a full roof replacement. However, even a completely new roof can last less time than you might expect when poor workmanship has occurred. For example, a poorly sealed chimney could result in damages to its internal structure due to water and moisture getting through the cracks.
Your roof should receive proper love and care just like any part of your home – more so, if we're being honest – due to the vital job your roof does for your home. Proper preventative maintenance should be given to your roof so that you don't have to call any roofers, because when you do it likely won't be for no good reason. It's best that your roof has the necessary protections now, rather than having to pay out later on.
How do you know if it's time to replace your roof?
The Age of your Roof
Roofs can last anywhere from 20 to 100+ years, depending on material, location, style, and workmanship! However, this isn't to say that parts of a roof couldn't last a lot less than this amount of time. If there are particularly bad storms or winds, parts of a badly put-together roof could be defeated overnight. This is why an experienced roofing company is vital. However, if it's just the case that a few tiles are dislodged, chipped, or missing, it doesn't call for an entirely new roof; a simple repair will suffice.
Cracked or Missing Tiles on your Roof
Tiles lose their shape and hold for various reasons – mostly due to fluctuations in temperature due to heat, snow, rain, and sun. If your roof tiles are exposed for long periods of time, the more likely it is that they could be penetrated. Over time not only will their colours fade away, but they may chip, allowing moisture to creep in, causing damage over time. At this point you have roughly 5 years to decide whether to replace all of the tiles – as you may not want your roof to appear patchy due to differently coloured tiles.
Replacing missing tiles on your roof is a relatively easy task, but if your roof is fairly old it will almost always cost more in the long run to continue replacing them time and time again over the years. In our experience, and that of previous customers, it's almost always better to just do a one-time full replacement.
Moss and Algae
The buildup of moss is a prime indication that the roof is too damp. We could come and clean the tiles, but scrubbing the moss off of the surface will eventually lead to weakened tiles. It's best to replace the tiles, and ensure that your choice of tile is algae-resistant, as well as not easily chipped or worn away.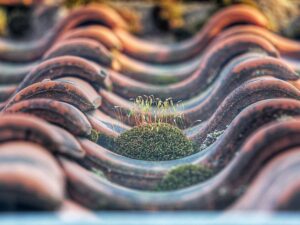 Visible Holes
An obvious one here – if you have visible holes in your roof, you're due a lot of trouble down the line if not resolved. You can do minor patches to prevent water getting through, but it's likely that over time the leaks will damage the roof membrane and wall framing. Furthermore, when the leak gets deeper into the house it can reach electrical wiring, causing a fire hazard. Best to just give your local roofing company a call.
Sagged Roof
A sagging roof is most often a sign of age. However, if your roof is less than 10 – 15 years old and has started to sag, it's an indication of fouler factors at play. Either the roof was built by an inexperienced team, or the materials used don't compliment each other as they should, or both. This will weaken the roof's foundations. If a roofer isn't called swiftly, it could mean some serious damage and serious expense. You can find expert, reliable roofing advice by contacting JCM Roofers.
You need a reliable roofer
Contacting your original roofer, if you know them, will likely save you from extra spending. Enquire about warranty and see what they can do for you, as repairs or replacements from external providers will likely mean extra costs.
However, you can always contact JCM Roofers for a professional and cost-efficient roofing solution – whether you need a full replacement, repairs, gutter cleaning, or your chimney needs some love, don't hesitate to give us a call.
JCM Roofers Oxford
65 Oliver Road
Oxford
OX4 2JH
Phone: 01865920244
Follow us here:
Yell.com